P7 Design Language
Xpeng Design Language: The New P7's Style of Pragmatism
It's time to shed the EV industry's boring stigma. It's time for sexy e-cars.
Designed to impress, XPENG cars exploit the latest tech to re-invent the EV industry, allowing you to experience the driving of tomorrow today.
 The core essence of XPENG Motors is our focus on modern lifestyle. We aim to provide trendy and safely designed vehicles that will propel you to new high-mobility standards.
Sporty. Sleek. Powerful.
We are all of this and much (much) more.
A style to conquer them all: An e-mobile lifestyle
When XPENG's goal to lead a new generation of smart cars was first set in 2015, the dream was to explore smart innovation for the EV industry using advanced AI and connection technology. But what we really wanted was better options for all kinds of e-mobile lifestyles.
And that's how our signature style came together.

    
XPENG style and design had to respond to the many and multifaceted needs of the modern driver – who comes from all walks of life - while also staying true to our core values and making user centric, smart and easy-to-use wonderful cars.
The requirements were clear, but the dream was big. The elegant silhouette was designed as a challenge: the pursuit of immediate impact leaving you begging for more.
XPENG's style is inspired by a crossover of mathematics and aesthetics. The silhouette is an ode to everything that is sporty and elegant in life. We balanced out every detail so that our forward thinking and technology-based approach would be recognizable from a long way away.
The combination of a powerful computer system and advanced autonomous driving functions are simply to be expected with a silhouette as elegant and outdoorsy as ours.
Our design is unique because it is luxurious.
XPENG P7's dynamical aesthetics
XPENG's P7 has its own unique design language, a curved streamline that is futuristic, thoughtful, and vibrant – but design cannot be all about visual impact.
We wanted to provide an immersive and interactive experience with multi-perceptual dimensions. The P7 is designed to let your mind flow from the outside to the inside, from machine to human. The sensual surfaces are never still and always vibrant.
The pace for the P7's design movement is a perfect balance of fast and slow. The sense of fluidity and dynamism is expressed in the contrasting forces of form and surface.
The changing rhythms are revealed by the effects of light and shadow at play, that scatter rays of light across the elegant silhouette of the whole car. This movement does not ask to be organized and controlled it only asks for you to follow.
Made to ride. Leave everything else behind.
The active front grille and refined rear design with flattened underbody grant the P7 an ultra-low drag coefficient. 
The P7's personality is urban, while also embodying the ability to perceive and interact with its surroundings. It can constantly evolve in exactly what you need, when you need it, wherever you are.
The P7's futuristic and highly technological look delivers on its promise once you step into the car. The ultra-low Cd reduces wind noise and increases stability while traveling. Performance is improved in every relevant aspect.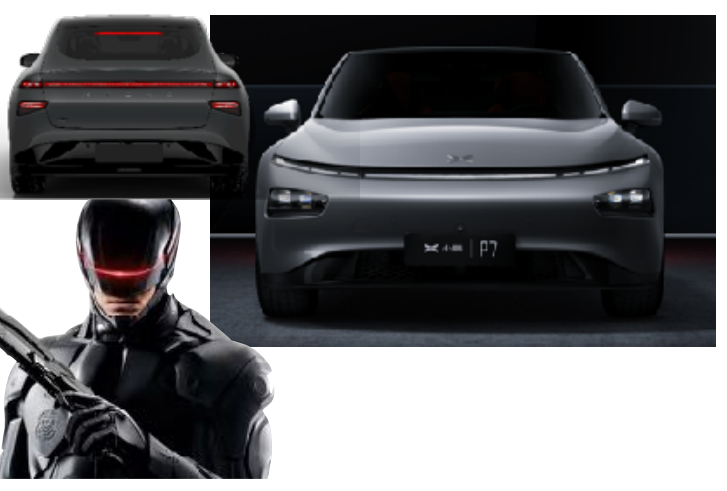 Nothing disturbs the electric bouncing of the eye from one curve to the next: frameless doors, concealed electric door handles, LED running lights. Nothing should get in your way while you ride, so we also took care of the road safety features for you.
The self-sensing full LED headlamps provide high brightness with an almost daylight effect, widening your field of view. In addition, the dynamic and eye-catching running lights have such a visual impact that the causal passer-by won't be able to miss you, ensuring your (and their) safety.
Imagine yourself drive far. Imagine yourself drive fast.
Futuristic on the outside. Minimalist on the inside.
You've seen it from the outside, now let's look at it from the inside.
The aggressive and vibrant stand of our Sedan-like model is balanced out by its interior. Although the sports car dynamism - echoed in the lowered bonnet and the fastback rear end - remains our focus, the P7's interior is simpler and more harmonious.
While the P7's exterior design is an explosion of lights in motion, its interior is a landscape of natural fluidity like a brushstroke on a Chinese painting. The tension characterizing the dynamism of a Sedan-like design is soothed by its peaceful interiors. 
While designing the P7, we wanted to meet all your needs, especially your desire for style alongside comfort and spaciousness. We designed the P7 as a sportscar that you can use every day.
That is why we gave the P7 more space in its rear seats than the average sportscar. The absence of components like the electric sunblind contribute to the increased headroom. But the P7 is also a coupé with its panoramic glass sunroof.  

Enjoy sunbathing in your car without worrying about ultraviolet and infrared light. The Low-E glass allows visible light to pass through while also protecting you like sunglasses.
P7 design is deeply rooted in pragmatism.
P7 is sporty, safe and pragmatic
The P7's lightweight design plays with robotic and futuristic references to engage with the outside and make you stand out. The visual experience is layered and structured.
But don't let this design fool you.
A long-range electric car is comfortable above all else.
The high performance of this model satisfies the needs of your daily commute as well as long-distance travelling. No extra mileage anxiety, forget the inconvenience of frequent charging.
Yes, we played and toyed with many things - lights, movement, shape - but not safety.
The safety standard design of the P7 includes a comprehensive driver and passenger protection. Our main concern will always be you and your safety on the road.
Energetic. Intelligent. Safe.
Who are we?
Established in early 2015, XPENG Motors is now a leader in smart EV manufacturing and is a frontrunner in integrating advanced Internet and AI technology with car manufacturing.
We strive to give our product a personality as well as the ability to perceive their surroundings and evolve. In our design process we consider not only aesthetics but also the resulting user experience.
We know who we are, but who are you?
---