P7 Comfort
Inside the XPENG P7: Awesome Performance, Luxurious Comfort
There's nothing like the thrill of sitting at the wheel of a supercar. With the XPENG P7, you can go one better. We used cutting-edge technology, the world's top German auto engineers and a whole lot of style to produce a motor that offers unbeatable performance and incredibly smooth ride.
Why choose comfort over power? The XPENG P7 gives you both.
The skeleton of a champion: The P7's sports car pedigree
If you want to build something even better than a top-tier sports car, it's best to start with a top-tier sports car. We developed the P7's chassis with a leading German automotive engineering team to outclass Europe's prime luxury motors in both comfort and power.
Once we had a revolutionary design, we tested it on roads all over.
And we mean all over: we tuned this car on over 40,000 kilometres of public roads for chassis testing alone, through mountain roads, deserts and snowy terrains in China, New Zealand, and the United States. That's not even to mention its turn at the IDIADA proving ground in Spain, where the XPENG P7 achieved excellent performance and outstanding control. Our rigorous testing process means that even in the rockiest conditions and at top speeds, the P7 still handles as smooth as anything.
The P7's double-wishbone independent front suspension
Our P7 is designed front and back to give you a comfortable ride, no matter what road lies ahead of you. That's why we developed first-class front and rear suspension for an incredibly smooth drive.
The P7's sophisticated double-wishbone independent front suspension is constructed with aluminium and an innovative lightweight design. This means a low roll centre, good grip and responsiveness at high speeds – signature traits of a supercar.
Five-link rear suspension
The P7's rear suspension perfects the car's high-speed handling.
Its five-link design, made with light and strong aluminium alloy, makes for maximum control of the wheel positioning to avoid drift and keep you on the straight and narrow. Plus, with vibration isolation in the subframe and connecting rods on the wheels, you get excellent grip on all kinds of road conditions and seamless comfort.
Performance cloaked in luxury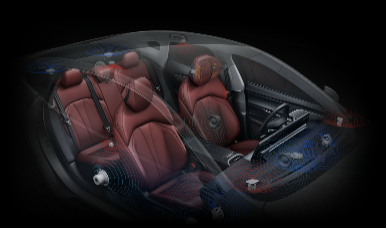 To create a truly comfortable yet high-performance sports car, no detail is too small.
When designing the P7's interiors, we knew that nothing said sleek style and effortless sophistication like premium, ethically produced Nappa leather. Soft to the touch, beautifully textured and contoured to suit the spine's natural curvature, the P7's seats feel as good as they look. But beauty is skin deep, and beneath the luxurious surface is a seat precision-engineered for comfort.
The driver's seat incorporates smart settings from air con, to heating, to memory functions and of course top-tier Dynaudio speakers in the headrest. Our seats are built to support your body in the areas you need it: tall side wings to support you at every turn and cushioned at the body contact areas for the comfiest ride of your life.
Top speed? No sweat.  
An EV might not have the same engine roar of an old-fashioned motor – but a high-tech car means your adrenaline rush just got smarter. The XPENG P7 is kitted out with cutting-edge intelligent active continuous damping control.
Exclusive to luxury vehicles, sensors in both the front and rear axles and a six-axis IMU automatically adjust the damping to three modes:
Comfort, Sport and Standard.
Intelligent automatic damping to keep your ride smooth
Your ride stays comfortable while you get maximum manoeuvrability with the P7's intelligent active continuous damping control.
The axel sensors on the P7 detect the wheels' movement and the damping control automatically adjusts to compensate for sudden changes like braking, acceleration and cornering. This means: if the front wheel falls into a pothole, the acceleration sensor picks it up and adjusts the output current to the shock absorber to soften the ride.
Whether you're driving over potholes, changing lanes or braking – this sophisticated damping control means your ride will stay smooth.
The future of comfort is yours
Climb into your XPENG P7 and see how truly awesome automotive engineering can sit inside of luxurious comfort and technology. A smart vehicle that takes you beyond any driving experience you've ever had, letting you enjoy a sports car's power and performance with the plush interiors of a luxury car.
Did you know? We equipped our P7 also with an intelligent and dynamic theatre-level sound experience of Dynaudio, so that every ride sounds as epic as it feels.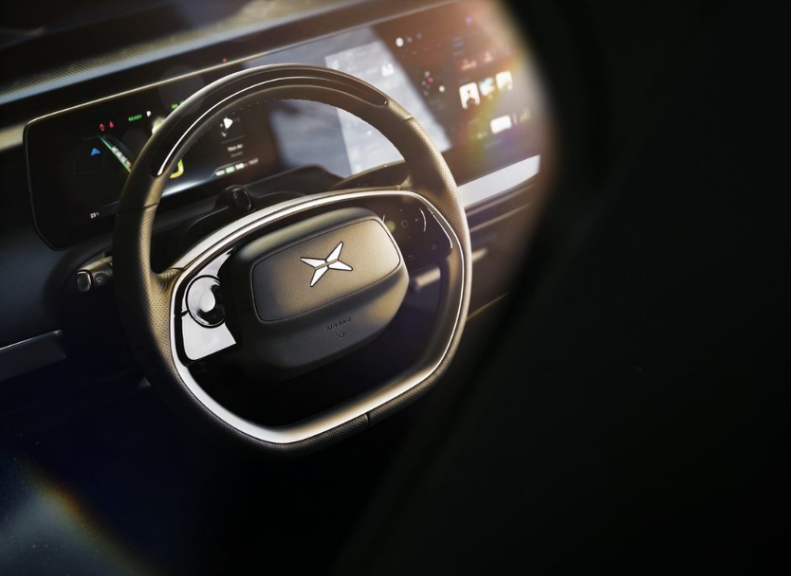 Choose comfort and a superior ride:
Xpeng P7
---